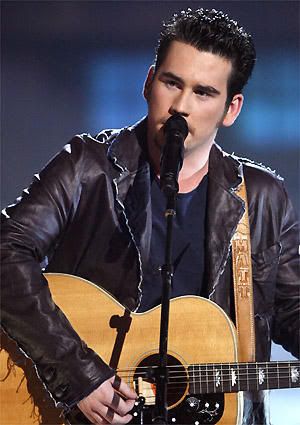 Matt Mason of 'CMT's Next Superstar'
American Idol
is over, and while I'm not all that distraught, I do have a lot more free time and miss writing this blog! I've also been sick and pretty much vegging on the couch, watching whatever I can find to amuse me on any given night. There really isn't much going on!
I will confess to having watched the first two episodes of
The Bachelorette
. I have never watched a complete season of this show, and probably won't watch this either, but initially, this show has all the makings of a complete train wreck! Ashely, who came in fourth on the last season of
The Bachelor
is back and this time, vows to be open to love and looking for a husband. Really?
I don't particularly care for Ashley and the show is further complicated by the inclusion of the Evil Bentley, a bachelor who admits she isn't his type and he's just sticking around because he is competitive. Ashley was warned about this dude before the show even started, and started out warily, but now, she seems to be falling for him.Of course they haven't even had a one-on-one date yet! No worries, though. Previews for next week show Ashley weeping about her heart being broken. I think this guy quits, although who knows.
There's also a contestant who is wearing a mask that covers his eyes ala Zorro. He was about to reveal his identity, but was interrupted by another bachelor clamoring for Ashley's attention. Zorro's made it through two rounds, but I think it's time for his unveiling. One guy actually got drunk at the welcome ceremony and had to be carried away. At least he was spared the humiliation of not getting a rose!
The show really bothers me, though! Every time all the guys are together, Ashley tells them she just knows her husband is in the room and then laughs annoyingly. You can almost feel them wincing and checking for the nearest exit. Then she reinforces this by passionately kissing pretty much anyone who comes her way. We're only two weeks in. Isn't that a bit early for passionate kissing?
I'm digging JP, the construction worker from New York who distinguishes himself from the rest by having shorter hair and a nice NY accent. I kind of like West the Widower too. I'll probably keep watching just to see her blow this completely! Other than Zorro and Bad Bentley, the rest of them all sort of blend together for me.
I'm also watching
The Voice.
The show started out fairly interesting, with blind auditions and the four coaches - Adam Levine, Christina Aquilera, Blake Shelton and Cee Lo Green picking people for their teams based on voice alone. That process took two weeks. Then, the coaches teamed up two members of their teams for a "Battle Round" where the two (or sometimes three since there were a couple of duos in the mix) sang the same song at the same time. The coaches chose one to pass through to the live shows, which start next week.
Some of the "not so attractive" singers did make the live rounds (they keep touting the "live" rounds as though they were the
Idol
finale), but some of the choices really irked me (like Jeff the big guy getting chosen over the girl with the bright red hair and Idol reject Emily Valentine getting bumped for the country dolt). The teams are not very well balanced, and there are three or four who stand out.
Here's where I get confused. There are 16 people left, and I'm assuming they will all perform next week and one from each team will be eliminated. I figured viewers would vote and the lowest vote getter would be eliminated. But that doesn't quite jibe with NBC's explanation. According to the NBC site:
In this final performance phase of the competition, the top contestants from each team will compete against each other during a live broadcast. The television audience will vote to save one contestant on each team, leaving the coach to decide live who they want to save and who will not move on. At last, each coach will have his/her best contestant left standing to compete in the finale. From these four, one will be named "The Voice" - and will receive the grand prize of a recording contract and $100,000.
So, who knows how this will shake out. I'm only watching to see the awesome Beverly McClellan again. She's a bald, tattooed lesbian (and proud of it) who is without question the best female performer I've ever seen on any reality singing show. She must win!
The Voice
runs through June.
Saving the best for last, this week is the finale of
CMT's Next Superstar,
Nigel Lythgoe's country baby (strange since the winner and runner-up of this year's
Idol
were both country singers). I have really enjoyed this show and the various challenges the contestants faced. The Top 2 are Steven Clawson (made it to Hollywood on this year's
Idol
, but got the boot after they caught him with song lyrics written on his hand) and Matt Mason (finished fourth on
Nashville Star
in 2006 and is a recovering drug addict who uses his life experiences as inspiration for his songs). Matt should win this, although Steven is cuter and we know how that goes.
Simon Cowell's
X-Factor
debuts in September, so there won't be much of a gap in the singing shows this summer. I am boycotting
America's Got Talent.
Long story, but a friend of mine who is an excellent singer auditioned last year, blew everyone away, but never got a call back. I also think it's funny Lauren Alaina auditioned for the show twice with the same results.
So there you have it.