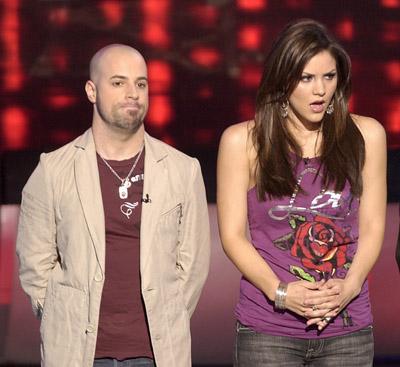 Historically, the Top 4 has seen some of the most shocking eliminations in the history of the show. 'Idol' fans will always remember the night Katharine McPhee bested Chris Daughtry in one of the most shocking eliminations ever. There was also the Season 1 shocker when Tamyra Gray was ousted in favor of Nikki McKibbon and Season 2, when we watched as LaToya London ended up going home.
Viewers chose Danny Gokey over Allison Iraheta in the Season 8 Top 4 - not quite as shocking, perhaps, but unwarranted, at least in my opinion. And, last year, James Durbin, who seemed a lock for the finals, saw his 'Idol' journey end in the Top 4, shocking many fans.
So, what will happen this year? Who's elimination would be considered shocking? I would say anyone but Hollie at this point. Last night, both Joshua and Jessica had standout performances, so either of their eliminations would be unfortunate, but shocking... not really.
One note on Joshua. No African-American male has made it past the Top 4 since Season 2 when Reuben Studdard won it all. Michael Lynche was eliminated in the Top 4 on Season 9, and George Huff and Jacob Lusk only made it to Top 5 during their seasons. Joshua's elimination would be the most disappointing for me and would also continue the losing streak for black male artists on the show. In my opinion, Joshua's the one to beat. We'll see how it shakes out.